On Thursday, August 12th at 8am EST, Isaac Bonewits crossed into the
Summerland peacefully in his sleep after a battle with a rare form of colon cancer.  Isaac touched the lives of many people in the Pagan, occult and magickal communities through his work as a writer, a teacher and a priest of the Craft.  A few years ago I did a handful of writups about different individuals who have been instrumental in the development of the Pagan community and the Craft.  Isaac was one of the people that I wrote about (now with a few updates) and I wanted to share this a a tribute to Isaac's great contributions to the community.  Not always the easiest of men to agree with, and always seemingly draw controversy both large and small, Isaac Bonewits is a name that will always be connected to the occult and Pagan communities and his work and teachings will continue to influence future generations of practitioners.
Isaac Bonewits, born Phillip Emmons Isaac Bonewits on October 1, 1949, is one of the most well-known public Pagan leads of modern day.  Bonewits grew up outside of Detroit, born to a Catholic mother and Presbyterian father.  Bonewits gained an appreciation for religion and theology from his parents that would stay with him his whole life.  In 1961 he relocated to San Clemente, CA with his family.  When he was 12 years old Bonewits met a woman who practiced voodoo which helped spark his interest in the occult.  When he was in the 9th grade Bonewits decided that he wanted to be a Catholic priest.  He transferred to a Catholic high school but soon changed his mind and returned public school where he graduated a year early.  After spending a year in junior college Bonewits enrolled in UC Berkley.
Around this time after spending several years intently studying the occult and magick, Bonewits began practicing magick and creating his own rituals.  In 1967 while at Berkley Bonewits pulled a stunt on campus giving a mock sermon as "the Devil's Evangelist" on the same corner where other preachers and religious people often participated in street preaching.  Bonewits was just trying to poke fun at those usually speaking on the corner but was approached by a woman who said she was a Witch and a member of the Church of Satan approached him and invited him to come and meet Anton LaVey, the church founder.  Bonewits met with LaVey and found him well-spoken and charming and was amused by the ideas that LaVey had for Bonewits regarding further ways to harass the Berkley preachers.  Through their mutual dislike of the Christian preachers they formed somewhat of a friendship and LaVey provided Church of Satan literature for Bonewits to hand out as well as helping him create better "stage props" or his speeches.  Bonewits began attending church services and meetings and going to lectures and classes that LaVey held.  Over time Bonewits realized that for a man twice his age LaVey knew little of what he tried to teach to others and that many of the church members were racists and conservatives using the church for shock value.  After a number of intellectual run-ins and disagreements with LaVey Bonewits left the church after about an eight month involvement.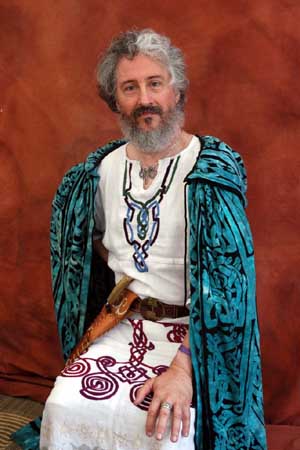 Shortly after this ,his college roommate, Robert Larson was a Druid and member of the Reformed Druids of North America.  Bonewits joined the RDNA and was initiated.  In 1969 Bonewits became an ordained Druid and he and Larson started their own Druidic grove in Berkley which had a more neo-Pagan feel than and became known as the New Reformed Druids of North America.  While at UC Berkley Bonewits became the first and only person to ever earn a degree from an Western university in magickal studies.  Because of the degree program at the school Bonewits was able to create his own study program and in 1970 he graduated with a Bachelor of Arts in Magick and Thaumaturgy.  The university did away with the individual group studies program after his degree earned the school some unwanted publicity.
In 1971 Bonewits published his first book "Real Magic".  After moving with his first wife to Minneapolis he became an editor for Carl Llewellyn Weschcke's magazine "Gnostica" from 1973 to 1975, leaving after it was suggested that his academic approach to the material was isolating many of the publications readers.  While in Minneapolis he started several groups including a Druidic grove, "Schismatic Druids of North America" , "Hasidic Druids of North America" and a Pagan civil rights group called "Aquarian Anti-Defamation League".  All three group eventually disbanded.  Around the same time Bonewits wrote and self-published "Druids Chronicles (Evolved)" as a handbook for all Reformed Druids at the time containing history, theology, rituals and grove customs.   In 1976 Bonewits divorced his wife and returned to Berkley and rejoined his original grove there and was elevated to ArchDruid of the grove.
In 1979 Bonewits created one the Advanced Bonewits Cult Danger Evaluation Frame (known also as "ABCDEF").  This was in response to the events and subsequent deaths which took place at the People's Temple run by Jim Jones.  The checklist serves as a way for individuals to evaluate the people and organizations that they may find themselves involved with to help protect people from having to encounter similar events again in the future.  Isaac has also been credited with coining the phrase "Never Again The Burning" from his 1973 paper "The Aquarian Manifesto".
In 1983 Bonewits became involved in an O.T.O. revival and was initiated into the New Reformed Order of the Golden Dawn.  This was the same year that he founded what would become one of the most well-known Druid groves, Ár nDraíocht Féin (meaning "Our Own Druidism").  The ADF would become more of a Celtic Neo-Pagan group that embraces many Indo-European religions and deities rather than being strictly involving Druidism.  The ADF incorporated in 1990 as a 501(c)3 group and Bonewits served as its ArchDruid until 1996 when he had to step down due to symptoms of a medical condition called Eosinophilia-myalgia, a flu-like neurological condition that can be fatal.  Bonewits maintains the title of ArchDruid Emeritus with the ADF and still writes and lectures on Pagan topics today.
Bonewits was married to fellow Pagan author and teacher Deborah Lipp with whom he had one child, a son, Arthur Shaffrey Lipp-Bonewits.  Bonewits and Lipp separated.  While living in New York, Bonewits met Phaedra Heyman, a former VP of the Covenant of Unitarian Universalist Pagans (CUPPS), a group that he was then a member of.  On July 23, 2004 the couple were handfasted though their marriage didn't become legal until December 2007 because of issues surrounding the finality of his divorce from his former wife.  In October of 2009, Bonewits was diagnosed with a rare form colon cancer which he began to receive treatment for.  During the months that followed the couple reported both ups and downs in the progress of the treatment with the Pagan community coming together several times to performing rolling thunder healing rituals to help with the process.  On August 12, 2010 at 8am eastern, Isaac Bonewits crossed into the Summerland in his sleep at home surrounded by his family.
Books By Isaac Bonewits:
Real Magic: An Introductory Treatise on the Basic Principles of Yellow Magic. (1972, 1979, 1989) Weiser Books ISBN 0-87728-688-4
Authentic Thaumaturgy. (1978, 1998) Steve Jackson Games ISBN 1-55634-360-4
Rites of Worship: A Neopagan Approach. (2003) Earth Religions Press ISBN 1-59405-501-7 (out of print)
Witchcraft: A Concise Guide or Which Witch Is Which?. (2003) Earth Religions Press ISBN 1-59405-500-9
The Pagan Man: Priests, Warriors, Hunters, and Drummers. (2005) Citadel ISBN 0-8065-2697-1, ISBN 978-0806526973
Bonewits's Essential Guide to Witchcraft and Wicca. (2006) Citadel ISBN 0-8065-2711-0, ISBN 978-0806527116
Bonewits's Essential Guide to Druidism. (2006) Citadel ISBN 0-8065-2710-2, ISBN 978-0806527109
Real Energy: Systems, Spirits, And Substances to Heal, Change, And Grow. (2007) New Leaf ISBN 1564149048, ISBN 978-1564149046. Co-authored with Phaedra Bonewits.
Neopagan Rites: A Guide to Creating Public Rituals that Work. (2007) Llewellyn ISBN 0738711993, ISBN 978-0738711997
Isaac also recorded a number of lectures and teachings for the Association for Consciousness Exploration (ACE):
The Structure of Craft Ritual
A Magician Prepares
Programming Magical Ritual: Top-Down Liturgical Design
Druidism: Ancient & Modern
How Does Magic Work?
Rituals That Work
Sexual Magic & Magical Sex (with Deborah Lipp)
Making Fun of Religion (with Deborah Lipp)